Five Beautiful & Historical Cities to Visit
Ryutaro Tsukata Photography - Chefchaouen
The world has so many beautiful cities that we might need an entire lifetime to visit all of them. However, some cities are top-rated, and they are not even beautiful; they are just crowded and full of pollution. Some cities are less popular and less visited but are definitely hearth-stealing, but are not very popular. In this article will find out five beautiful and historical cities to visit at least once in life.
Beirut, Lebanon
How many tourists would visit Beirut today if it had not been destroyed by the bloody civil war that ended in 1991 and the war started by Israel in 2007? Lebanon's capital has been reborn from its ashes with the construction of new infrastructure and the restoration of ancient sites. In the new Beirut, the National Museum, La Corniche promenade, the Mohammad al-Amin Mosque and the beautiful campus of the American University stand out. Beirut faces the Mediterranean Sea, and fabulous hotels have been set up on its beaches. Lebanon used to be a French colony between 1860 and 1943, and Beirut's gastronomy is a delicious Arab-French fusion.
Cape Town, South Africa
Cape Town is an essential destination on your trip to South Africa. It is possibly one of the most multicultural cities, which has best managed to integrate its European heritage with its African character. Cape Town's main attraction is the explosion of colour of its picturesque houses. Like its surroundings, surrounded by practically virgin nature, we can find large hills and abundant vegetation, such as crystalline water beaches with penguin colonies (Simon's Town) or a seal island (Hout Bay). In Cape Town's surroundings, there are also some of the best vineyards in the country. His story still recalls that Cape Town was the birthplace of many leaders of the anti-apartheid movement. In fact, Nelson Mandela recited his speech in this city that marked a new era for the country.
Havana, Cuba
The Cuban capital has been frozen in place in the 1950s, with its ageing Ford and Chevrolet V-8-engined cars driving alongside colonial jewels, which has its retro tourist charm. If something provides a communist regime, it is security on the streets of Cuba. In Havana, visitors walk calmly to their hotels after enjoying some Mojitos in La Bodeguita del Medio or Daiquiris in El Floridita. Varadero's beaches are among the most beautiful in the Caribbean, and world-class hotels are found on its sandy beaches.
Chefchaouen, Morocco
Chefchaouen is also called Chauen. Its blue-painted whitewashed houses, its fortified city of La Medina and its mosques make The Bleu Perle one of the most beautiful cities in the world. This small town nestled in the Rif Mountains has an Andalusian flair to the Spanish Jews and Muslims who migrated to Africa after the Christian Reconquest of Andalusia. Nomads founded the Medina from the Sahara in the 11th century.
Bergen, Norway
Bergen is one of the most photographed cities in Norway. Bergen's old neighbourhood, Bryggen, once occupied by the Hanséatica League, is the postcard of colourful houses that we take from the city. It is located between seven hills, some of them known for being where their popular trolls reside. It is also the gateway to the Norwegian fjords, so it is not surprising that it is one of the essential stops to contemplate this wonder of nature. The KODE museum displays some of the best works by its most illustrious painter: Edvard Munch. The good taste in the mouth is found in Bergen's port, where the different street vendors sell some of the country's gastronomic delights. Salmon and dried cod are its hallmarks.
Kyoto, Japan
Time seems to have frozen in Kyoto. This ancient capital of Japan mixes the charm of a classic city, where its inhabitants still wear kimono, with more modern neighbourhoods. Kyoto is one of the few cities that was not bombed during World War II, so its architecture and heritage remain practically intact. Located on the island of Honshu, Kyoto is considered the cultural and cinematographic centre of Japan. In it, we can find more than 1,600 Buddhist temples, 400 Shinto shrines, old imperial villas, film studios and more than 200 gardens considered to be the most beautiful in the country for the diversity of its flora. Kiyoto's university is also one of the most important universities in Japan.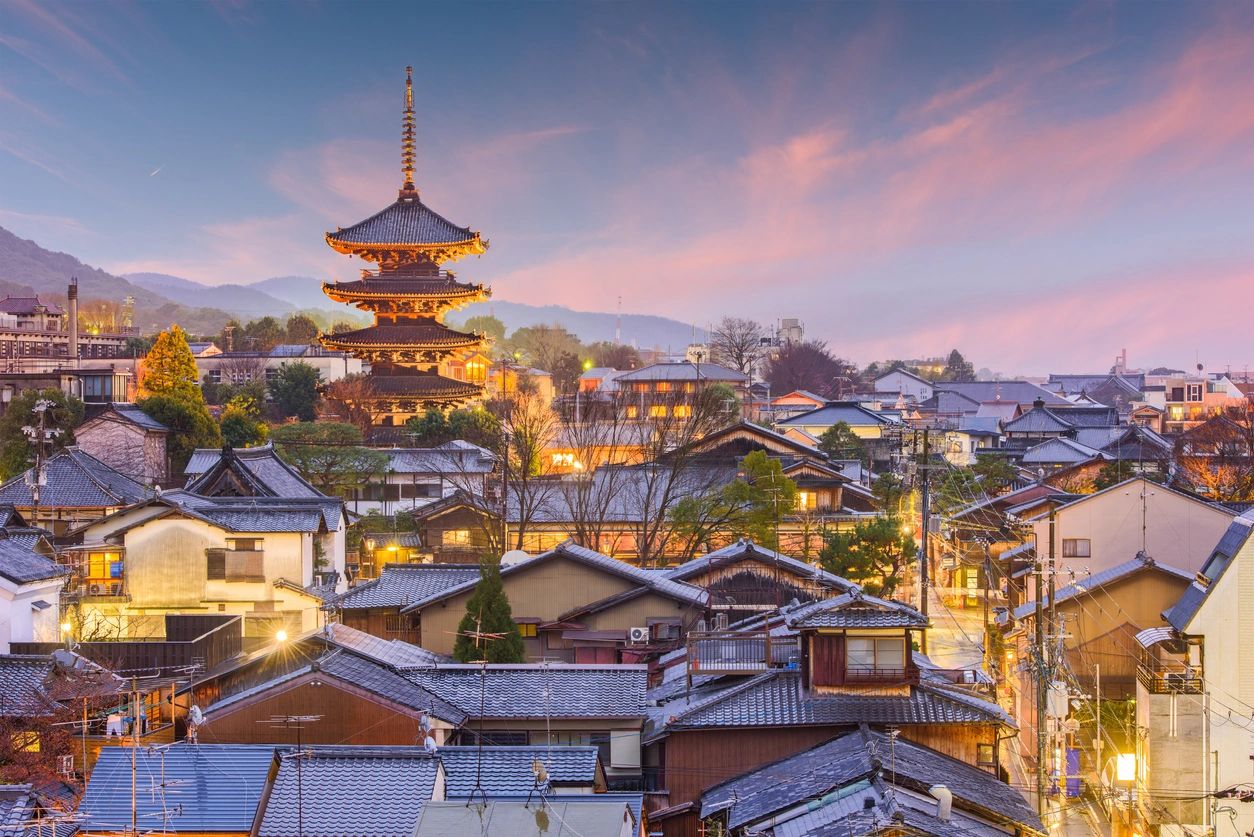 Carla Rossi
An accomplished Italian historian, Carla Rossi earned her degree from the University of Rome. With an insatiable appetite for both travel and cuisine, Carla brings her expertise to the forefront as one of our esteemed editors. Her journeys unravel the world's stories, while her taste buds embark on their own global adventure, inviting readers to savor the flavors of diverse cultures.